Carbsmart, the leading South African low-carb foods company, is always looking for ways to create healthy, guilt-free versions popular treats – and has launched two yummy new additions to its extensive range.
Macadamia nuts are on a big health trajectory – and fans now enjoy Carbsmart's new no- added sugar, vegan Chocolate Macadamia Spreads, in dark and white variants.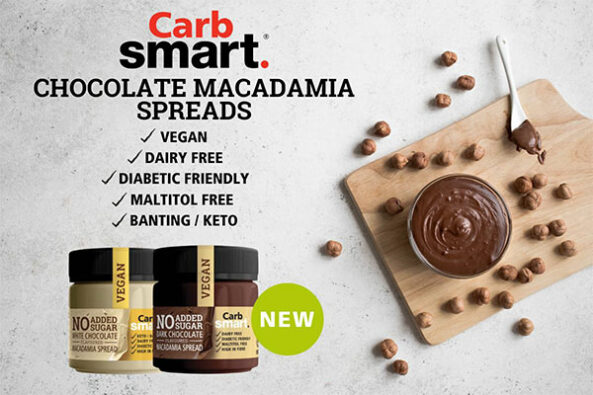 These are made with no artificial sweeteners, are maltitol free, dairy free, soya free and gluten free. They are high in fibre and a great choice for the pantry – that's if anyone can keep them there before scoffing the whole jar!
Great for dipping, spreading, smearing. Everyone will love this – a super-yummy yet healthy lunch box treat!
Added to the Cape Town company's growing confectionery range are equally delicious Chocolate-Coated Roasted Macadamias. Carbsmart has used its trusted and well-loved sugar-free dark chocolate and no-added-sugar white chocolate to create these two fabulous treats.
Both ranges tick all the right boxes: low-carb, banting, keto, and diabetic friendly; they contain no maltitol; are high in fibre; are dairy, soya and gluten free; they are orangutang friendly, and palm oil free; made with sustainably-sourced African cocoa beans; and are also Halaal and Kosher certified.
Available online at www.carbsmart.co.za, and at selected retailers.
See more at www.carbsmart.co.za. [Your ed has enjoyed some samples of these – just bloody delicious!]